Hello friends!
In a time of social distancing and/or self-quarantine, it feels like the right time to make some book recommendations!
These are in no particular order, and I'm leaving out Darker Shades of Magic & Jade City / Jade War, because I've talked about those in previous posts (you should read them though!)
Broken Earth Trilogy by N. K. Jemisin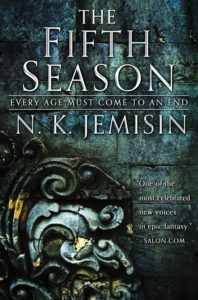 If you want some end-of-the-world-good-times, then I cannot recommend this trilogy enough. What is it about, you ask? Well that's complicated, but the world has ended and is on the brink of another collapse. The book starts off with a mother (Essun) finding her child brutally murdered by her husband, and her daughter is now missing. Essun will stop at nothing to find her daughter.
This is quite easily some of the best storytelling and world-building that I've ever experienced.
Nora won three consecutive Hugo Best Novel awards for these books (she was the first author to do this, ever), and if you need more reason to read these books, check out her acceptance speech for her third Hugo win.
She also has a new book that came out, today: The City We Became. It is next on my to-read list, at the moment.
The Nevernight Chronicles by Jay Kristoff
Have you ever wondered to yourself: "Self, wouldn't wizard school be so much cooler if everyone had daggers, were out for blood, and worshipping a god of death, instead of learning how to repot weird herbs?"
If you haven't, you are now.
I picked up Nevernight (book #1) at an independent bookseller that had a staff recommendation tag that just said, "Hogwarts, but assassins," on it and I was sold. This is the story about Mia Corvere who is out for one single thing: Revenge. These books are brilliantly written, brutally constructed, and hilariously dark (there are footnotes and I cannot stress enough read the footnotes).
If you need a little murder and chaos in your life, then this is for you.
The Sixth World by Rebecca Roanhorse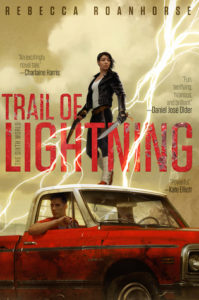 Trail of Lightning (book #1) introduces us to life after a global climate apocalypse, and it takes place on a former Navajo reservation, Dinétah, with our central character Maggie Hoskie, a monster hunter. The story begins with a young girl missing, and Maggie is enlisted to help find her. It is a book full of magic, trickster gods, and trying to manage in a dystopian future.
I had the opportunity to meet the author at a convention last year, and something she said during a panel conversation stuck with me as I read this book. To paraphrase, she said, "when you talk about post-apocalyptic worlds, for Native people, we've already experienced this. This is our present."
I don't want to give too much away about the books, but I cannot recommend them enough! If you're a Star Wars fan, as well, Rebecca also wrote the official canon book that takes place between The Last Jedi and The Rise of Skywalker, Resistance Reborn.
Slay by Brittney Morris
If you're more in the mood for something quicker and easier to devour, I will throw in this really delightful Young Adult book, Slay. Slay is a multiplayer online role-playing card game, created by our central character, Kiera Johnson. It is a game that highlights, embraces, and celebrates Black excellence. She is a high school student who keeps her identity as a computer programmer a secret from all her friends and family. A murder in real life connected to the game causes the world to suddenly take notice of what Kiera has created.
I tore through this book in about a week. It is thought-provoking, and unapologetic in its celebration of Black Girl Magic. It was so well done and dove headfirst into tough conversations about what it means to create space for marginalized identities, especially in the gamer world.
What are you reading? Leave a note in the comments!